When Microsoft officially introduced its coming version of Office on July 17, one of the quickly mentioned features that generated the most questions was something called SkyDrive Pro.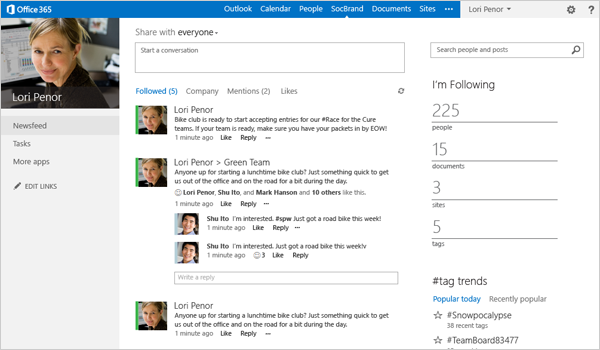 SkyDrive is Microsoft's cloud storage mechanism for consumers. So will SkyDrive Pro be its complement for business users? Will SkyDrive and SkyDrive Pro offer users two different cloud storage locales? Does SkyDrive Pro basically kill off Groove and/or SharePoint Workspace?
LiveSide.Net has a good rundown of some of the many unknowns around SkyDrive Pro.
Microsoft mentioned SkyDrive Pro a couple of times, very briefly, in its downloadable reviewers' guide for the new Office. On July 17, officials offered a few more tidbits about the mysterious new version of SkyDrive.
SkyDrive Pro is considered to be both part of SharePoint Online in Office 365 and of SharePoint Server 2013. This is how Microsoft Corporate Vice President of SharePoint Jeff Teper defined SkyDrive Pro in a July 17 post on the new SharePoint:
"SkyDrive Pro makes it easy it to work with your documents in SharePoint – save, sync, share and collaborate are all drop-dead simple. The name conveys the simplicity and increased consistency with our SkyDrive consumer cloud service while reinforcing the 'Pro' features of SharePoint like social networking, collaboration, search, metadata, workflow and compliance. Click 'Sync' on a SharePoint library and you will get the documents offline in the Windows Explorer, Office applications and more. SkyDrive Pro is part of both the SharePoint service in Office 365 and server."
A Microsoft spokesperson said that Microsoft does not consider SkyDrive Pro to be a replacement for SharePoint Workspace. The spokesperson also said users could opt to have two SkyDrives: One for work (SkyDrive Pro) and one personal (SkyDrive). It's not clear to me whether the two would simply sync, or if users could opt to merge these into one. Hopefully things will become clearer as testers start weighing in about the Customer Preview of SharePoint 2013 and the new Office 365 bundles.
Meanwhile, what else is new in the coming SharePoint Server 2013/SharePoint Online service?
Based on what's in the SharePoint Online 15/2013 technology preview, here are some of the features likely to be part of the release:
SharePoint Duet: A cloud version of the Duet add-on Developed by SAP and Microsoft that allows SharePoint to integrate with SAP applications Support for viewing business intelligence content on Apple iPad devices Improved Web Apps: With the 15 release, Office Web Apps won't be running from the SharePoint "farm." Instead the Webified versions of Microsoft's Office apps will run from a new Office Web Apps Server. Third party developers will be able to tie into the Office Web Apps service and provide access to documents stored in IBM FileNet, OpenText, and Oracle Metro user interface: Tiles in site collections will display more information when you hover your mouse over them, in a Metro-like style Rights Management Services (RMS): RMS is being integrated directly into SharePoint Server 15 (and Exchange Server 15). Sounds like the same is happening with the cloud versions of these products. It seems RMS on the cloud side also might be available as an add-in or separate SKU Project Online: New Project site to manage lightweight projects. Microsoft officials and the company's partners have been hinting about this one for the past year Visio Online: Sounds as though there will be a Visio cloud service component, too, as I hear last year, though in the tech preview it doesn't seem to be available as a standalone entity. (Seems to be bundled with Project client)
This week, Microsoft officials and partners shared more details, including the more pervasive social-networking capabilities; the integration of FAST Search technology; and a new SharePoint Sites hub. There's also a new feature called Shredded Storage, which removes file duplicates and reduces the amount of content sent across the wire.